Shi family from Shanghai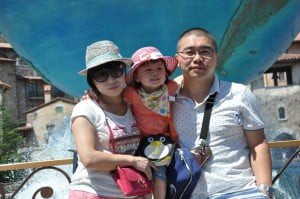 | | |
| --- | --- |
| Family location | Shanghai |
| Address | Beijing Chaoyang District Shuangqiao Dong Road |
| Family members | Mother SHI YJ 35 y.o. , Dad Mou JB 36 y.o.,Daughter 4 y.o. |
| Main contact | Mother: SHI YJ |
| | |
Dear au pair:
我很高兴您能选择加入我的家庭,我的家庭很简单,有一个4岁的小女孩,文静可爱带点俏皮。我们家庭希望她能在中国上海生活的同时,从小也了解一些国外优秀的文化,会说流利的英语;包括我和我的丈夫通过您的加入,使英语的表达有很提高。
我最看中您有责任心,对俏皮的孩子有一套您特有的办法;教会她自信乐观和从容;我的家庭住的面积不大,但完全可以提供一间单独的房间给您;
我希望很快能见到您,并希望你喜欢中国,喜欢上海,喜欢我的家庭,喜欢我的孩子。
期待您早日成为我们家庭中的一员。
感谢。
Dear AU Pair,
We are quite happy you can join our family. We are a simple family with 4-year-old girl. We live in Shanghai and hope our child can understand different cultures with fluent English. Also we hope we can improve our English from your joining with us. We hope you are responsible and patient to child. We hope you can let her being optimistic and confident. We don't have a big home but we can provide you a single room.
Hope seeing you soon and hope you will like china, shanghai, and like our family.
Be expecting of your coming.
Thanks!