They are Au Pairs in China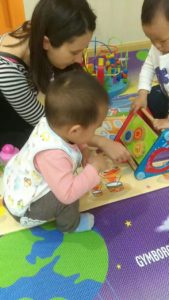 Alisa aupaired to China for 3 months from March to June. When she was in China she travelled with the family to 3 different cities: Shanghai, Sanya, and Guilin. All these cities are hot tourists spots in China, so she had different views of southern China.
Lily is a college student from America, she au paired to China from the months of May. Lily speaks fluent Mandarin Chinese as she was raised up in a half Chinese family in America, but she doesn't read and write much Chinese. She joined Au Pair to China program and hoped she can learn some basic reading/writing when she aupairs to China. Till now she learned more than 300 of characters after she came to Shanghai. She's enjoining her "Chinese life".
Celine is from Italy and finished her au pair program in china for 8 months. She was aupaired in England for a year to improve her English ability when she was in Europe. Then she applied university in Germany, she had 10 months of free time before she goes to study in Germany, so she applied to go to China. At the end we interviewed her, she believe her "Chinese life" would be a valuable memory for her. However we hoped all the best for her future study in Germany.
Jac finished her au pair program in Shanghai and she already found a good job, this job is also based in Shanghai. Our coordinator is very happy that Jac chose to stay when the program ends. We also provide intern/work chances and opportunities to au pairs who finish/graduate from the program. We are glade the fast growing China could attract you!