Guide book for Au Pairs in China: The Introduction of Tofriend Au Pair in China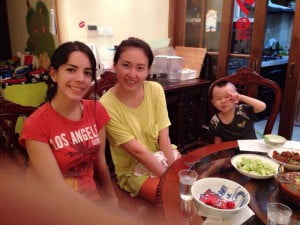 I. The Introduction of Tofriend Au Pair
China is a country with a rich culture, dramatic history and is fast becoming a top destination choice. Until the 1980s, China was virtually closed for the outside world but now it is one of the world leaders in economy and business, putting itself to spotlight by hosting world-known events such as the Olympic Games and 2010 World Expo.
After joining the World Trade Organization, we have witnessed the rapid and great economic growth, while the most Chinese families had only one child facing intense social competition. In this case mastering a foreign language became essential, which met the requirements of the Au Pair project.
Tofriend Au Pair belongs to Guangyi (Shanghai) Cultural Exchange Ltd Co. Launching the Au pair program in Shanghai since 2010, focusing on young people's future, who has dreamt about
go abroad , be in foreigner environment and experience cultural
difference 。 Our center based in Changning district, Shanghai. We are focusing on the development and promotion of the Eastern-Western culture exchange by supporting cross-culture communication and helping people to understand differences.
Tofriend Au Pair is an agency specialized on au pair programs, aiming to create opportunities for young people to visit and to learn about different countries in order to better understand the people, history and culture of these countries as well as to improve their language proficiency. We are pleased to welcome working with foreigner Au Pairs based in China mainly the foreigner applicants willing to be Au Pair in China and create the brand-new foreign language environment for the Chinese families since childhood.
Since our establishment in December, 2010 we have successfully matched more than 100 families and our programs earned a very good reputation in China for providing the best service possible.
We carefully research the families which might be the best suitable for you, pay close attention to these families, ensuring them to observe the regulations about the wages, the working conditions, the working time and our projects are safe and protected by law.
So have you ever dreamed of spending a year in China, while you are young and free?You can do it as the part of your education or until you decide what to do with your life!
You can make it happen, by living as part of a Chinese host family for a whole year.
Do you want to join us?
This Blog is published by aupairinchina.org. The article(s) and Images(s) are ONLY for the aupairinchina site.