Swedish Au Pair in China: Mark's experience
Mark is a Swedish boy who au paired to china on the year of 2014. But everything seems just happened. On the day of September we picked him up and send sent him to the Shanghai Hongqiao train station where he took the train to Yuyao where his 1st Chinese host family located.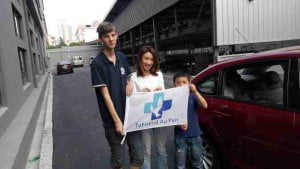 After a 1 month, Mark's host family planned to send their children to study abroad, like one of other au pairs who need rematch in China, Mark need to find a another place again. Vicky who worked with tofriend AUPair in China went to Yuyao to fetch Mark to a temporary flat room in Shanghai. Then we started to rematch him. In this free time, Mark went to Changsha and had a vacation there. After he came back Shanghai we found him a family in Minhang district where he will teach and play with a boy to let him prepared for an international school. Since then Mark started his AU Pair life in Shanghai. Time went fast and soon Mark finished his 6 months program in China and went back home in Sweden. This year we had a wonderful news which is Mark will start to move back to Shanghai since he applied and got admitted of a local University here based in the business major! That must be the coolest and most exciting news I have got from Sweden. Well, we wish you all the best in the future, young boy! Btw, considering to find a Chinese girl friend will help you to thru your 4 years learning in Shanghai. Isn't it?
This Blog is published by aupairinchina.org. The article(s) and Images(s) are ONLY for the aupairinchina site.