Elodie's Au Pair experience in China
Elodie is a French girl who applied our program last year (2014), and she matched with a family near Shanghai, finally she arrived on the last day of 2014 which is 31st of December. The family drove to Pudong airport in Shanghai to pick her up and drove back home. Elodie was having a good time with the family.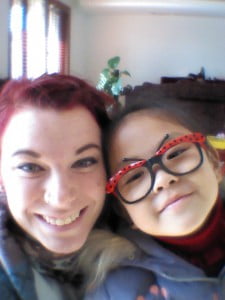 But after a month had some change in this family. It turned that they did not need an au pair. So with the agency's help Elodie moved to Shanghai and stayed in a temporary empty flat room with one of our stuff. Then we started to match her another family. The 2nd match went well and Elodie stayed with a Shanghai family in the west town which was quite convenient for her. Elodie can ride to the university to study mandarin 3 times per week. In the meanwhile the family parents completely have none English background but their sons can speak fluently.
Elodie was with this family quite well and visited several places in China like Changsha, Jinan. The boys at home quite enjoyed the time with this French sister. It turned to August and Elodie leaves soon, the family planned a cruise trip for her leaving tri which took them to Japan and Korea then Back China. We wish everything happiness and success for this French young lady!
This Blog is published by aupairinchina.org. The article(s) and Images(s) are ONLY for the aupairinchina site.