Au Pair to China, Cities Reviews: Beijing
Many of au pairs who wish to come to China actually aren't familiar with Chinese geography. China is a big country composing of hundreds of cities. In this sector we will introduce you several popular cities for au pairs to give you more information.
Beijing, also known as Peking, is the capital of the People's Republic of China and one of the most popular cities in the world, with a population of more than 21 million in 2014. The city is the country's political, cultural, and educational center, and home to the headquarters of most of China's largest state-owned companies. The metropolis, located in northern China, borders Hebei Province to borders the north, west, south, and a small section of the east to Hebei Province, and Tianjin Municipality to the southeast. Governed as a municipality under the direct administration of the national government, Beijing is divided into 14 urban and suburban districts and two rural counties. It is a major transportation hub, with dozens of railways, roads and motorways passing through the city, and the destination of many international flights to China. Few cities in the world have served as immense as the political and cultural centre of  this area.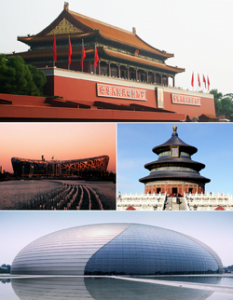 Beijing is one of the Four Great Ancient Capitals of China. It has been the heart of Chinese history for centuries, and there is rarely a major building of any age in Beijing that does not have at least some national historical significance. The city is renowned for its opulent palaces, temples, and huge stone walls and gates, such as the Forbidden City, the Great Wall and so on. Its art treasures and universities have made it a centre of culture and art in China.
Here we put several useful links for you to explore more about Beijing:
It seems Beijing is the most popular city for au pairs' destination in China because of its modernization and advance among all Chinese cities. Though we would point out some benefits and drawbacks the au pair may face with when you are in Beijing.
Benefits:
Well-built infrastructure and transportation in the city.
Multiple travelling spots in and near the city.
Advance of internationalization, with nearly all bilingual signs in the city.
Multiple school choices (lots of universities and mandarin schools).
Drawbacks:
Huge landscape of the city may cause you inconvenience on city travelling (commuting).
City Polution.
Well, if you have any questions of your au pair trip to China, please read our blogs to search more information about the program, also you are welcomed to email us at [email protected]