绝知此事要躬行—美国男孩的互惠心路历程Knowing is Doing – An American Boy's Journey of Reciprocal Kindness
《圣经·旧约·创世记》第11章记载,当时人类联合起来兴建希望能通往天堂的高塔,为了阻止人类的计划,上帝让人类说不同的语言,使人类相互之间不能沟通,计划因此失败,人类自此各散东西。此事件,为世上出现不同语言和种族提供解释。学语言,恰是拉近人类之间的距离,促进文化交流,也是探索世界的途径。美国路易斯安那州与中国上海,地图上尚且遥遥相望的两个城市,在现实中的距离更是可想而知,那么远又因为互惠生德里克显得那么近。
In the book of Genesis, in the Old Testament of the Bible, chapter 11 recounts the story of humanity uniting to build a tower reaching towards heaven. To thwart their plans, God made them speak different languages, rendering them unable to communicate with one another, and the project failed. This event provides an explanation for the diversity of languages and races in the world. Learning a language, in fact, bridges the gap between people, fosters cultural exchange, and serves as a pathway to explore the world. The cities of New Orleans, Louisiana, and Shanghai, China, seem worlds apart on the map, but because of an exchange student named Derek, they now feel much closer in reality.
来自美国的男孩德里克爱喝茶,爱中国功夫,一直着迷于中国的文化,似乎冥冥中就与中国有着千丝万缕的联系。申请互惠后积极主动地准备来华事宜。没来中国前,他对一切都很好奇,从中国的事物到中国的家庭,自己也经常在网上搜索,可是得到的信息并不都十分准确,有些甚至让人啼笑皆非。今天,德里克来华后对中国的喜爱和兴趣渐浓,足以证明了一句话,绝知此事要躬行。
Derek, a young American boy, has a deep passion for tea and Chinese martial arts, which seems to connect him mysteriously to Chinese culture. After applying for a reciprocal exchange program, he eagerly prepared to come to China. Before arriving in China, Derek was curious about everything, from Chinese customs to Chinese families. He often searched online for information, but not all of it was entirely accurate, and some of it even left him amused. Today, after coming to China, Derek's love and interest in the country have grown significantly, proving the old adage that "knowing is doing."
随着来华时间的接近,德里克的心情更加雀跃了,"不敢相信,我马上要来中国了!",他激动的心情我们能理解一二,踏上旅途的德里克,那颗勇敢的心所带来的不一样的惊喜体验是任何人都无法感同身受的。"我旁边的旅客是中国人,我们聊得太开心了。"在飞机上邻座的旅客恰好是中国人,一路上对德里克照顾有加,德里克被他的友好礼貌所打动。如果说那只是中国人民友好的冰山一角,那么来华后德里克收获的欢笑,惊奇,温暖更是数不胜数。 初到上海家庭的德里克,似乎有些紧张与孤独,家庭细致的关爱让独在异乡的他没有异客的感觉,很快适应了生活。孩子们的喜爱也是对这个洋哥哥莫大的鼓励。不久,德里克就和孩子们打成一片,他兴奋地与我们分享和孩子们的互动视频,视频里孩子用流利的英语和德里克交流着,稚嫩的童音别样动听,孩子抱着德里克,黏着他,俏皮地亲吻他的额头,德里克似乎也被这一幕深深地感动了。他甚至激动地制作了视频,分享到脸书上,"我花了好久做了一个很棒的视频!你快去看看!"长达三分钟的视频中,上海的大小景点,中国的传统建筑,都被他兴奋地记录下来。Facebook下远方家人的评论是对他最大的支持,表达着同一种意思:为他自豪为他骄傲。
As Derek's departure to China drew near, his excitement grew. "I can't believe I'm about to go to China!" His elation is understandable, and the unique experiences he'll have with his brave heart on this journey are something only he can fully appreciate. "The passenger next to me on the plane was Chinese, and we had such a great conversation." On his flight to China, Derek happened to sit next to a Chinese passenger who was exceptionally friendly and courteous, making his journey even more enjoyable. If this is just a glimpse of the friendliness of the Chinese people, Derek's post-arrival experiences in China have been filled with countless smiles, surprises, and warmth.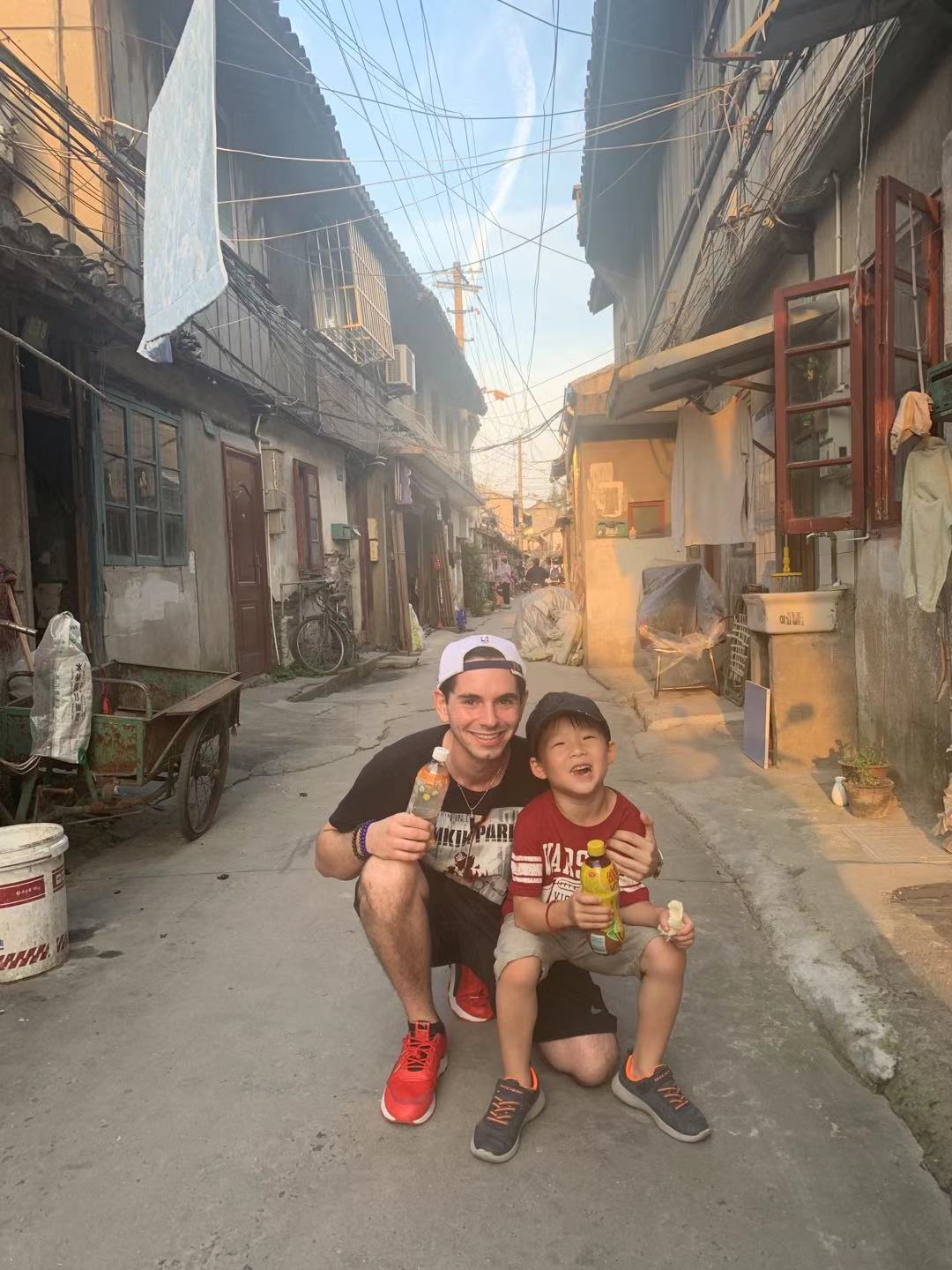 最近,德里克开始上中文课了,他会像个孩子一样骄傲地说中文老师夸他进步快。也认识了一群可爱的互惠生朋友们。德里克告诉我们,每次去上学前孩子们都依依不舍地送别他,就连出去逛街孩子们也总是牵着他的手,我们很开心地看到德里克与孩子之间有着淳朴真挚的感情。
Upon arriving at his host family's home in Shanghai, Derek seemed a bit nervous and lonely at first. However, the family's meticulous care made him feel at home in this foreign land, and he quickly adapted to his new life. The affection from the children was a significant source of encouragement for this foreign "big brother." Before long, Derek had bonded with the children, and he excitedly shared videos of their interactions with us. In these videos, the children conversed fluently with Derek in English, their sweet voices enchanting. They clung to him, playfully kissed his forehead, and Derek seemed deeply moved by these moments. He even made a video, exclaiming on Facebook, "I spent a long time making an amazing video! Check it out!" In this three-minute video, he enthusiastically documented the sights of Shanghai and traditional Chinese architecture. The comments from his loved ones back home on Facebook were a tremendous source of support, all expressing the same sentiment: pride and admiration.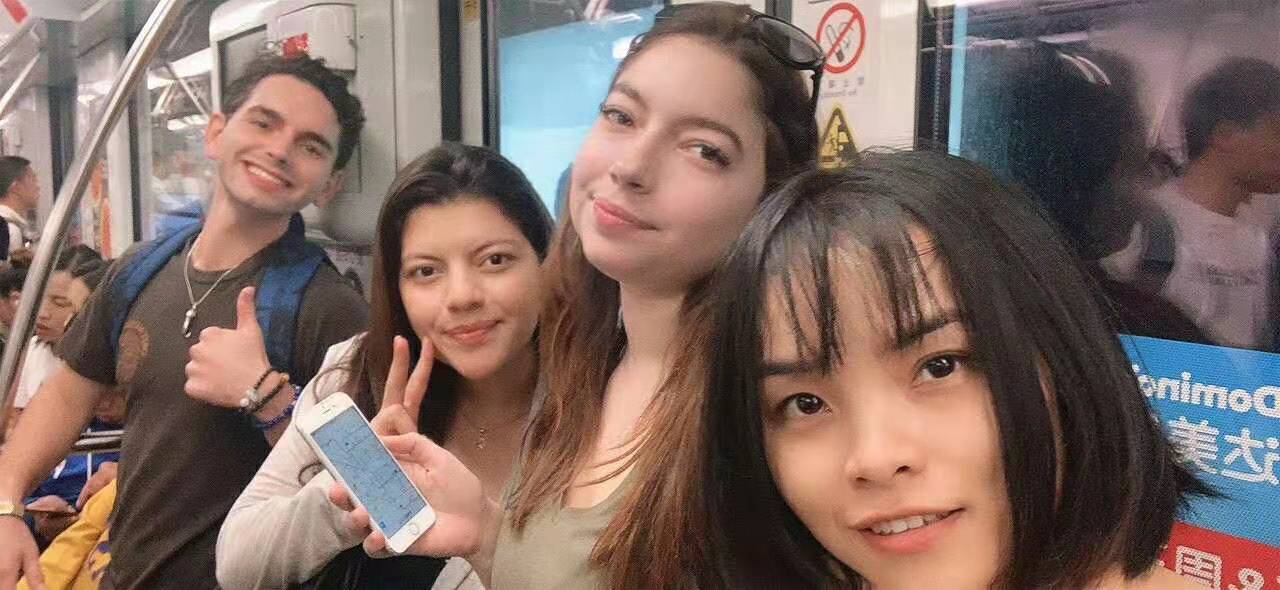 他的互惠生活刚刚开始,一切都朝着好的方向发展,未来可期,那么你的呢?
Recently, Derek has started taking Chinese language classes and proudly boasts about his rapid progress. He has also made a group of lovely reciprocal exchange student friends. Derek tells us that every time he goes to school, the children reluctantly bid him farewell, and even when they go shopping, they always hold his hand. We are delighted to see the genuine and heartfelt bond forming between Derek and the children.
Derek's reciprocal exchange experience has just begun, and everything is heading in a positive direction. The future holds promise, and what about yours?