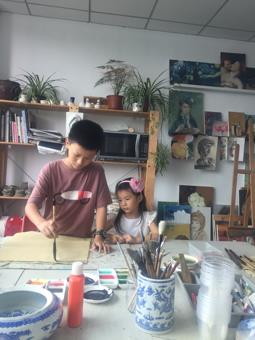 Family Mom: Yue W
Family Add: Hongqiao , Shanghai City
Family Members: one son (12 y.o), one daughter (5 y.o), father, mother,nanny
Expectations from aupairs: Eu countries, preferred, without accent, have some childcare experience, being patient and tender.
General working time: Spending time to teach English and accompany kid in the afternoon and at night. Have 1-1.5 days off (specific schedule could be negotiated with the family).
Letter from the family:
Hello! Very welcome you to our home! I am a child's mother, my job is in the company of management (President), usually like swimming, walking, reading, watching movies. The child's father is also the management of work, usually like to play badminton, walking. My father and I work in a company. My family has two children, big brother, called Huashan (English name Barry), now 12 years old, is now a junior high school, he enrolled in a residential bilingual school, only on weekends or holidays to go home, He likes sports, especially like football, usually like to read and listen to music, his English is our best home. My second child is a girl, called Hua Shiqi (English name Annie), 5 years old, she was born in Hong Kong, household registration in Hong Kong, please come mainly as Annie partners. Annie is a clever girl, like painting, dancing ballet, listening to music, reading, building blocks, doing manual, will say some simple everyday language.