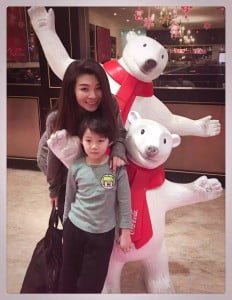 Family Mom: Shi Y
Family Add:Chaoyang Dist, Beijing City
Family Members: one son (6 years old), mother, nanny
Expectations from aupairs: Native-speaker preferred (USA,UK), being initiative to talk with the family and being active and lively. Good English speaking.
General working time: Spending time to teach English and accompany kid in the afternoon and at night, during the summer holiday the working time will be changed in the day. Have 1-2 days off (specific schedule could be negotiated with the family)
Letter from the family:
I am a pretty happy 6-year-old boy's mother, the two of us and nanny lived in the core area of Beijing. I am engaged in the fashion industry for over ten years. Travel and travel because of work, I've been to 34 countries in the world, many of which I took my son Aden to go with . So Aden childhood is a powerful ability to adapt, optimistic, cheerful child. We have a lot of friends, so great friends, children's parties and outdoor activities continued. We live in a cell next to Chaoyang Park "Lake International", which is as beautiful as a park-like community, there are many foreigners living here. We can provide you with a beautiful separate room, all-weather aunt at home to take care of our daily diet, she can do good to eat Chinese food, I can do simple western food. Aden's father does not live with us, but he will get along with every weekend and Aden 1-2 days. We believe you will experience a home make you happy memorable life. Welcome!